JID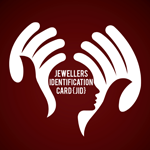 With the emergence of focused separate manufacturing, wholesale and retail centres across the country, the industry relies heavily on logistics and distribution functions.
In order to curtail the hardships and challenges faced by jewellers during the movement of gem and jewellery parcels, GJC, with the approval of MSME Ministry has developed the Jewellers Identity Card (JID), which allows concerned authorities to validate the carrier as a genuine and bonafide member of the industry.
The JID is an independently verified card programme developed by GJC along with Medi Health Solutions Pvt. Ltd, the India partner to Assist America. Medi Health Solutions brings in strong skills of Healthcare and Customer Management.
The Jewellers Identification Card establishes the bonafide identity of the carrier and association with the industry and the Federation. The tamper-proof card serves as a proof for identity only and mentions the employee's or carrier's professional details. The vetting of card and verification of information by the authorities is done by physical check as well as a technical check. At the various points or ports of checking, the concerned authority may also check carrier information through an online portal or a downloadable application on mobile phones designed for the purpose.
For more information, contact : info@gjf.in